THE NEW

NÜVI LINE
For a Lifetime of Navigation
Why ask for directions from anyone else?
Garmin nüvi is sophisticated driving technology made easy to use. nüvi provides highly accurate map data and turn-by-turn directions that sound as if spoken by a friend. With big, bright screens that allow you to focus only on the road. nüvi is dedicated guidance, available in many models with feature sets suited for every driver.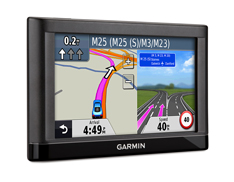 ESSENTIAL series
With bright 5- and 6-inch dual-orientation displays and many advanced features, Garmin Essential Series offers nüvi navigation at a value-price. Foursquare adds millions more points of interest. Garmin Real Directions offer clearly spoken turn-by-turn directions that guide like a friend, using easy-to-see buildings and landmarks. Direct Access simplifies navigating to select complex destinations. Select models also include lifetime maps1 and lifetime traffic avoidance2.
Look Closer


ADVANCED series
For even more helpful driving features step up to the Advanced Series. Voice-activated navigation lets you keep your hands on the wheel. Bluetooth® technology allows hands-free calling. photoReal Junction View helps you navigate interchanges with ease. The Advanced Series also offers Foursquare search results, spoken Garmin Real Directions and Direct Access. Select models include lifetime maps1 and lifetime traffic avoidance2, including HD Digital Traffic, the best and fastest traffic solution available from Garmin.
Look Closer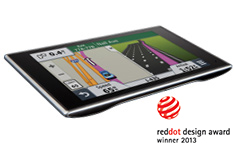 PREMIUM series
Stunning, stylish design coupled with a superior navigation experience, the award winning premium nuvi® has a crisp 5.0″ multi-touch display to present amazing 3D landscapes and buildings. Premium models include voice controlled navigation, Garmin Real Navigation™, lifetime European maps, lifetime Digital Traffic, Bluetooth® and Smartphone Link compatibility.
Look Closer
All features not included on all models.
Foursquare® Data
Need help finding the perfect places to go? The 2014 Advanced Series is the first nüvi line of Garmin sat navs to feature Foursquare venues to help users explore new and popular restaurants, shops, and more. Information on tens of millions of places rated by people who've visited them is available at your fingertips. Users can easily search for Foursquare places using Garmin's signature "Where to?" menu to get directions.
Bluetooth-enabled sat navs can connect to the Smartphone Link app* to search for specific categories such as best places and trending places nearby. Smartphone Link also provides access to more detailed information from Foursquare including ratings, price range, and opening hours as well as a 'Check in' feature so friends and family know where you are.

*Not available in all areas. Subscriptions required. Contact your mobile service provider for more information about your service plan's data and roaming rates.
Garmin Real Navigation™ with
Real Directions™, Real Voice™ and Real Signs™
Hear the new sound of advanced guidance. Improved, intuitive navigation feels like driving with a friend. Garmin Real Directions guide using easy-to-see landmarks, buildings and traffic lights – rather than hard-to-read street names. Garmin Real Voice is refined speech technology for a more natural sounding voice. Garmin Real signs is on screen guidance using lifelike road signs. Available only from Garmin.
Direct Access
Direct Access is a brand new feature that makes it easier to find places that are located inside complex buildings such as shopping centres or airports. Users can, for example, easily search for restaurants and stores inside a shopping centre; or terminals, parking, and car rentals inside an airport. The feature automatically directs drivers to the entrance that's closest to their final destination and indicates where it is.
Lifetime1 Maps
Businesses open and close, new roads are built. Be confident that your routes reflect current map data in a world that's forever evolving. Enjoy free map updates, available up to four times per year, for the useful life of your nüvi. Learn More
Active Lane Guidance with
Voice Prompts
Uses a combination of voice prompts and visual cues to help you drive through an exit or interchange with confidence. An animated graphic is displayed next to the map view and brightly coloured arrows indicate the proper lane needed to make a turn.
photoReal and Bird's Eye
Junction Views
Navigate confidently through interchanges, even those you've never driven before. photoReal junction view offers realistic displays of junctions and interchanges along your route, including road signs and the surrounding landscape. Brightly coloured arrows indicate the proper lane position needed for your next turn, to ease the stress of merging on or off a roadway. Bird's Eye junction view provides a detailed view of interchanges, looking down from overhead.
Up Ahead
Displays points of interest along your route such as restaurants, hospitals and petrol stations and updates the information as you drive along your route.
Garmin Traffic information
With Garmin traffic information on your sat nav you'll be able to avoid the congestion whether it's caused by road works, an accident or the usual rush-hour traffic. You'll know where, and how long delays are, and be offered an alternative route, so you're always in control. Garmin Digital Traffic is Garmin's best traffic service. It keeps you updated with alerts via digital radio so it's super-fast and accurate, giving you early warnings for exact location of traffic, incidents and delays. Better still, it works straight out of the box.
Smartphone Link
Smartphone Link is a free app that that allows your nüvi to connect with your iPhone® or Android™ Smartphone. Once connected via Bluetooth your Garmin nüvi will receive real time information such as traffic, mobile safety cameras, weather and much more3. It also shares locations with your Smartphone so using your phone, you can navigate on foot, that last mile to your destination, and back to find your parked car.
Bluetooth® Compatible
A Bluetooth compatible nüvi is able to sync with a Bluetooth-enabled device, like a smartphone for hands-free calling. Available as standard on all Advanced and Premium models.
Voice Activated Navigation
When equipped with voice activated navigation, your nüvi is able to respond intelligently to your spoken commands. Just talk to it. Your hands can remain safely on the wheel.
3-D Buildings, Landmarks and Terrain
With 3-D Building and Terrain view, you'll see representations of prominent buildings in many cities and map contours at low zoom levels, giving you a realistic perspective of the terrain.
*Landmarks not available on the Essential and Advanced series
Garmin Safety Cameras
Every Garmin has the full Cyclops safety camera database pre-loaded to notify you of speed limits on the road that you are travelling on and the presence of safety cameras. Keeping to the speed limit and being accident-free will make the roads a safer place and will help you maintain lower insurance premiums and avoid penalty points and fines too.
Powered Magnetic Mount
The mount included on the 2014 Premium nüvi uses powerful magnets to align the device perfectly and hold it securely. This mount also conveniently charges your nüvi as you drive and provides extra volume for clearer communication.
More Information at a Glance
2014 nüvi models now display more driving information on your map. With a glance, you'll know your current street, current speed and the speed limit.
Garmin Express Makes Updates Easy
Your convenient, one-stop shop for map and software updates, as well as free voice and vehicle downloads. Garmin Express downloads available updates to your computer automaticaly and alerts you when new maps are ready to install to your device.
2Lifetime traffic extends for the useful life of your Garmin traffic receiver or as long as Garmin receives traffic data from its traffic supplier, whichever is shorter. A traffic receiver's "useful life" means the period during which the receiver (a) has the required technical capabilities to utilise current traffic data service and (b) is capable of operating as intended without major repairs. Traffic content not available in all areas. 3User's data plan charges, if any, will apply. Contact your mobile service provider for more information about your service plan's data and roaming rates. 4Subscription may be required. The Bluetooth® word mark and logos are owned by the Bluetooth SIG, Inc. and any use of such marks by Garmin is under license. Other trademarks and trade names are those of their respective owners.